Four Department of Biology undergraduates, Jennifer Kulow, Erika Anderson, Rebeca Hernandez, and Ellen Weinzapfel, recently received high honors.
Goldwater Scholars
Two of the four IU students awarded 2010 Barry M. Goldwater Scholarships are biology majors. A total of 278 talented science scholars were honored nationwide. Throughout its 24-year history, the Goldwater Foundation has recognized 13 of our majors.
Jennifer Kulow is a junior earning BS degrees in astrophysics, biology, and physics. She will receive up to $7,500 for her one-year scholarship. Time management is an art that this Nashville, Ind., native has perfected. In addition to her triple major, Kulow plans to complete minors in mathematics and chemistry. The fact that she is also a member of the university's track and field team makes her accomplishments even more impressive. Her hard work earned her recognition as a 2009 Academic All-Big Ten athlete and scholar.
Kulow credits her father, Carl Kulow, a lecturer in our department, with sparking her interest in science. She has fond memories of helping him set up lab experiments when she was younger. Kulow works with astronomer Constantine Deliyannis, studying the photometry of open-star clusters. She participated in Biology's yearlong lab course, the Integrated Freshman Learning Experience (IFLE), and is a member of the IU Science, Technology and Research Scholars program (IU STARS). Kulow dreams of becoming an astronaut.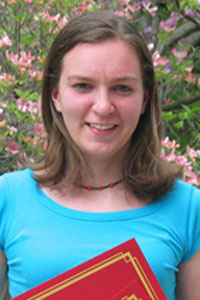 Erika Anderson, who is earning a BS in biology with a mathematics minor, will receive the $7,500 award for each of two years. She works with biologist Mimi Zolan. "Erika works with Claire Burns, a post-doc in the lab. She is doing microarray analysis of meiotic mutants, work that is both technically and intellectually sophisticated," said Zolan. "It's been fun interacting with her all along, and her role in the lab is more and more as an intellectual peer. She is just completing her second year at IU, and is already writing a section of an upcoming paper, participating in lab journal discussions held jointly with the Lacefield lab, and engaging in wide-ranging discussions about the work in the lab."
Anderson received a 2008 Wells Scholarship, considered one of the most competitive and prestigious awards offered by any American university. She was named a 2009 Beckman Scholar by the Arnold and Mabel Beckman Foundation, a national program designed to advance the education, research training and personal development of select students nationwide. Like Kulow, Anderson is an alumnus of the IFLE program and a member of IU STARS.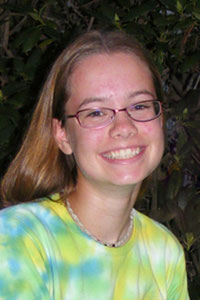 Provost's Award recipients
Rebeca Hernandez (biology and anthropology) and Ellen Weinzapfel (biology) were two of five students selected to receive the Provost's Award for Undergraduate Research and Creativity. The $500 award, open to IU Bloomington seniors, celebrates the achievement of undergraduate researchers and recognizes the efforts of the faculty who mentor these students. "The range of the students' interests and activities, as well as the quality of the work they have produced, stand as testimony both to the intellectual and creative vigor of an IU Bloomington education, and to the value of mentored research and creative activity as a part of that education," Vice Provost for Undergraduate Education Sonya Stephens said of the award. Students were selected from five categories ranging from natural and mathematical sciences to performing and creative arts.
Hernandez, recognized in the social and applied sciences category, was nominated by her faculty mentor, anthropologist Joelle Bahloul. She was honored for her research on the difficulty in providing maternal health care during times of political warfare. Her paper, "On the Battlefield of Midwifery: A Case Study of a Mayan Midwife Serving During and Post La Violencia," is the result two summers spent researching maternal health conditions in Guatemala. Hernandez presented her findings at IU and at undergraduate research conferences throughout the country.
She's been accepted to Yale University where she plans to earn an advanced practice degree in nurse-midwifery. After Hernandez graduates from Yale, she wants to earn a law degree. "I now believe my calling is to improve maternal health care systems in countries undergoing violence," she said in a recent interview.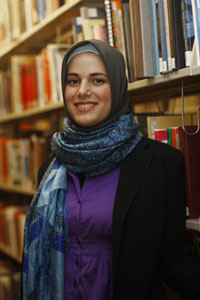 Weinzapfel was recognized in the natural and mathematical sciences category for her work conducted in the laboratory of her mentor, Clyde Culbertson Professor Yves Brun. Weinzapfel contributed "to efforts to characterize the newly sequenced genome of a bacterium and made the critical finding that a mutant bacterium produces holdfast in solution, a breakthrough featured prominently in a major proposal to the National Institutes of Health for new funding for the research." Her paper, "Characterization of Adhesion and Motility in the Differentiating Stalked Bacterium Asticcacaulis biprosthecum," was presented at national conferences.
She was one of two students selected this year to receive the Department of Biology's Outstanding Honors Thesis Award that was created by Daniel P. O'Connor, BS'77, and his wife, Patsy. Weinzapfel has received two national awards: the 2008 Beckman Scholarship and the 2009 Barry M. Goldwater Scholarship. This fall, she will enroll in the doctoral program at the University of Pennsylvania, where she plans to conduct research on developmental biology and/or stem cells. Brun is impressed with Weinzapfel's drive, passion, perseverance, and creativity, saying that these traits, along with her resilience when faced with the unavoidable failures associated with laboratory work, will serve her well in her career as a research scientist.
The students' faculty mentors, Bahloul and Brun, each received $500 in personal research funds and an additional $500 to support the mentoring of future undergraduate scholars. Additionally, each received a commemorative pin honoring their efforts.
Thanks to Jocelyn Bowie/Indiana University for the photograph of Anderson and Kulow that appears on the main page of our newsletter.