Sears Crowell Scholarship
Thanks to donors like you, students gain hands-on experience at a marine lab or field station.
This scholarship was established in the 1980s to honor Professor Emeritus P. Sears Crowell, Jr. The scholarship allows a student to attend a marine lab or field station approved by the Department of Biology.
About Sears Crowell
Professor Sears Crowell's interest in marine biology began when he took classes at the Children's School of Sciences in Woods Hole, Massachusetts. As a teenager, he worked at the Marine Biological Laboratory at Woods Hole, where he completed most of his research throughout his career. He focused his investigations on hydroids, sea anemones, and jellyfish.
Highly involved in the science community, Dr. Crowell served as trustee for the Marine Biological Laboratory and was named trustee emeritus in 1979. He also served two terms on their executive committee and was secretary of the board of trustees for two years. He was the first program officer for the American Society of Zoologists and the first managing editor of their publication, American Zoologist. Dr. Crowell also served as chairman of the zoology section of the Indiana Academy of Science from 1949 to 1950. He was a member of the Indiana University faculty for 31 years.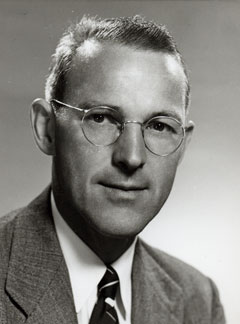 2019 Crowell Scholar: Katilyn Beidler
Katie Beidler is a third-year Ph.D student in the EEB program in Associate Professor Rich Phillips' lab. She studies how the traits of roots and their fungal symbionts, mycorrhizae, influence carbon and nutrient cycling in forests. In her Ph.D. research she would like to explore the extent to which dynamics between mycorrhizae, saprotrophic fungi, and bacteria mediate decomposition processes. Katie will use the Sears Crowell Scholarship to attend the Stable Isotope Biogeochemistry and Ecology course (IsoCamp) at the University of Utah. She is interested in using stable isotopes to explore root-mycorrhizal-microbial interactions, with the hopes of illuminating previously hidden ecological connections. She is excited to to learn from the "IsoPopes" and attendees of IsoCamp 2019.