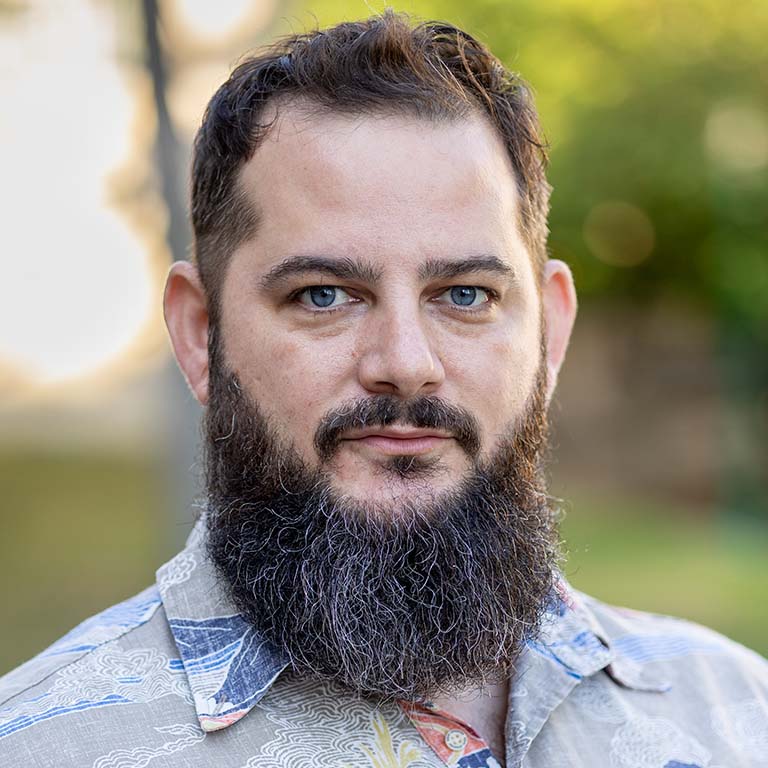 Erik Ragsdale
Associate Professor, Biology
(he/him/his)
Education
Postdoctoral Fellow, Max Planck Institute for Developmental Biology, 2010-2014
Ph.D., University of California, Riverside, 2009
About Erik Ragsdale
Lab
Myers Hall 100
812-855-8821
Ragsdale Lab website
Awards
Alexander von Humboldt Fellowship, 2011-2013
Erasmus Mundus Scholar, 2010
Research
I study the role of developmental mechanisms in the evolution and diversification of form, using nematode worms as a tractable laboratory model. Nematodes lead virtually every lifestyle known to animals and include microbivores, omnivores, predators, and parasites of insects, vertebrates, and plants. The diversity of nematode mouthparts bears testament to this remarkable ability to specialize. I seek to unravel the mechanisms underlying such morphological diversification by integrating developmental genetics, phylogenetics, genomics, and natural history.
My lab uses the nematode Pristionchus pacificus as a reference point and model, and we focus on the genetics of developmental plasticity (polyphenism) in its mouthparts. After an irreversible decision in larval development, nematodes of this species, and others in its family (Diplogastridae), assume one of two distinct feeding-forms that perform alternative ecological functions. This dimorphism involves an evolutionary novelty: teeth, which enable predatory feeding on other nematodes.
Given the sometimes drastic influence that environment has on phenotypes, it is possible that developmental plasticity also plays a role in the evolution of such phenotypes, including novel traits. To question this possibility, my lab studies mouth plasticity in nematodes to identify the developmental program for executing a morphological novelty, and we are testing the significance of such a program in the evolution of plastic traits.
A few goals of this research include:
A molecular understanding of how developmental plasticity is regulated;
To know how plasticity regulators diverge to produce new phenotypes;
To determine plasticity's impact on how genes and gene-networks change to produce morphological novelties.
Specifically, my lab is using forward genetics to reconstruct the molecular pathway for a polyphenism switch and revealing how this switch has appeared and changed across lineages. Furthermore, we are using inference-based approaches, natural variation, and comparative reverse genetics to understand the evolution of these switch genes, the environmentally sensitive genes they regulate, and ultimately the novel phenotypes they influence.
Research Areas
Developmental Mechanisms and Regulation in Eukaryotic Systems
Evolution
Genomics and Bioinformatics