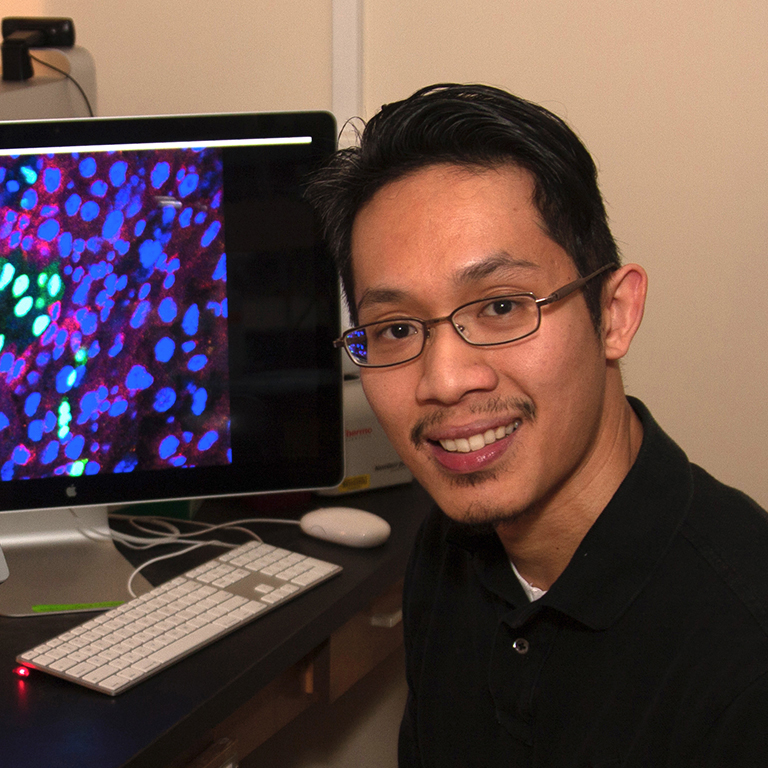 Arthur Luhur
Associate Director, Drosophila Genomics Resource Center
Assistant Scientist, Biology
Education
Ph.D. Molecular Cellular and Developmental Biology, Indiana University, 2010
About Arthur Luhur
Research
Insect cell culture, post transcriptional gene regulation, metabolism, physiology.
Drosophila Genomics Resource Center
Jordan Hall
(812) 855-5510
DGRC website
Publications
Luhur A, Buddika K, Ariyapala IS, Chen S, Sokol NS. Opposing post-transcriptional control of InR by FMRP and LIN-28 adjusts stem cell-based tissue growth. Cell Rep. 2017 Dec 5;21(10):2671-2677. doi: 10.1016/j.celrep.2017.11.039. PubMed PMID: 29212015; PubMed Central PMCID: PMC5728658.
Chawla G, Luhur A, Sokol N. Analysis of microRNA function in Drosophila. Methods Mol Biol. 2016;1478:79-94. Review. PubMed PMID: 27730576.
Luhur A, Sokol N. Starving for more: Nutrient sensing by LIN-28 in adult intestinal progenitor cells. Fly (Austin). 2015;9(4):173-7. doi: 10.1080/19336934.2016.1158366. PubMed PMID: 26934725; PubMed Central PMCID: PMC4862420.
Chen CH, Luhur A, Sokol N. Lin-28 promotes symmetric stem cell division and drives adaptive growth in the adult Drosophila intestine. Development. 2015 Oct 15;142(20):3478-87. doi: 10.1242/dev.127951. PubMed PMID: 26487778; PubMed Central PMCID: PMC4631770.
Luhur A, Chawla G, Wu YC, Li J, Sokol NS. Drosha-independent DGCR8/Pasha pathway regulates neuronal morphogenesis. Proc Natl Acad Sci U S A. 2014 Jan 28;111(4):1421-6. doi: 10.1073/pnas.1318445111. Epub 2014 Jan 13. PubMed PMID: 24474768; PubMed Central PMCID: PMC3910640.
Luhur A, Chawla G, Sokol NS. MicroRNAs as components of systemic signaling pathways in Drosophila melanogaster. Curr Top Dev Biol. 2013;105:97-123. doi: 10.1016/B978-0-12-396968-2.00004-X. Review. PubMed PMID: 23962840.