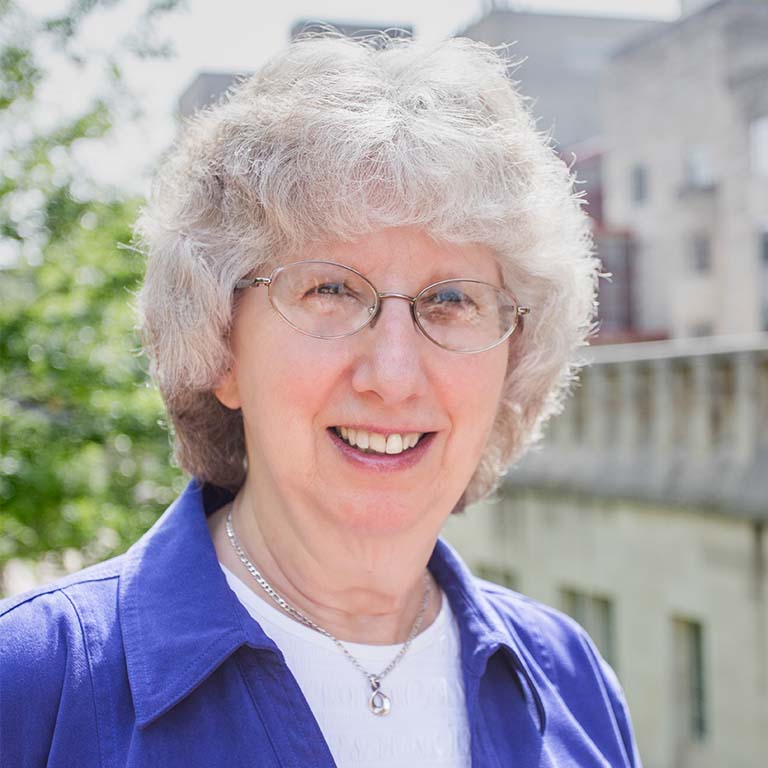 Karen Bush
Professor of Practice Emerita, Biology (Biotechnology)
(she/her/hers)
Education
Postdoctoral Fellow, University of California, Santa Barbara, 1970-1971
Ph.D., Indiana University Bloomington, 1970
B.A., Monmouth College (IL), 1965
About Karen Bush
Awards
International Society of Antimicrobial Chemotherapy, ISAC Fellow, 2019
ISC Hamao Umezawa Memorial Award, 2017
Monmouth College Hall of Achievement Award, 2015
CLSI Excellence in Standards Development Award, 2015
ICAAC Lecturer, 2014
Editor, mBio, 2010-2019
E. P. Abraham Award for β-Lactamase Research, 2007
Fellow of American Academy of Microbiology, 2000
Editor Antimicrobial Agents & Chemotherapy, 1994-2004
Research
Note to prospective graduate students and postdoctoral fellows: The Bush lab is not accepting any new students or postdocs.
Following postdoctoral work, Dr. Bush spent 35 years in the pharmaceutical industry where she began studying beta-lactamases, enzymes in pathogenic bacteria that cause resistance to penicillins and other beta-lactam antibiotics. Her scientific teams identified and/or developed the marketed antibiotics aztreonam (Azactam®), piperacillin-tazobactam (Zosyn®), levofloxacin (Levaquin®), doripenem (Doribax®), and ceftobiprole (Zeftera®). She also worked with medicinal chemistry teams to discover six novel agents that entered human clinical trials. Her research focused on the mechanism of action of penicillin-binding proteins (PBPs) and beta-lactamases. She has authored multiple publications describing the classification of these enzymes.
After returning to IU in 2009, she joined the Biotechnology program and established a laboratory to characterize beta-lactam resistance mechanisms in central Indiana healthcare facilities, in collaboration with the IU School of Medicine Pathology Laboratory. Her IU lab has conducted contract research for pharmaceutical companies to characterize the antibacterial activity of new investigational drugs against these resistant bacteria. Six of the agents, ceftolozane-tazobactam, ceftazidime-avibactam, plazomicin, eravacycline, imipenem-relebactam, and cefiderocol have gained FDA approval.
Representative publications
Bush K, Bradford PA. 2019. Interplay between β-lactamases and new β-lactamase inhibitors. Nature Reviews Microbiology 17:295-306. doi.org/10.1038/s41579-019-0159-8
Bush K. 2018. Past and present perspectives on β-lactamases. Antimicrobial Agents & Chemotherapy 62:e01076-18. dx.doi.org/10.1128/AAC.01076-18
Bush K. A Meandering Path from Biochemist to Microbiologist. ACS Infectious Diseases. 2018-12-04. DOI: 10.1021/acsinfecdis.8b00261.
Zhang, Y., A. Kashikar, C. A. Brown, G. Denys, and K. Bush. 2017. An unusual E. coli PBP3 insertion sequence identified from a collection of carbapenem-resistant Enterobacteriaceae (CRE) tested in vitro with ceftazidime-, ceftaroline- or aztreonam-avibactam combinations. Antimicrob. Agents Chemother. August 2017 61:e00389-17; Accepted manuscript posted online 30 May 2017, doi:10.1128/AAC.00389-17.
Kao, C., X. Lin, G. Yi, Y. Zhang, D. A. Rowe-Magnus, and K Bush. 2016. Cathelicidin antimicrobial peptides with reduced activation of Toll-like receptor signaling have potent bactericidal activity against colistin-resistant bacteria. mBio 7(5):e01418-16. doi:10.1128/mBio.01418-16.
Estabrook, M., M. B. Bussell, S. L. Clugston and K. Bush. 2014. In vitro activity of ceftolozane-tazobactam as determined by broth dilution and agar diffusion assays against recent U.S. Escherichia coli isolates from 2010 to 2011 carrying CTX-M-Type Extended-Spectrum β-Lactamases. J. Clin. Microbiol. 52:4049-4052.
Bush, K., M. Pannell, J. L. Lock, A. M. Queenan, J. H. Jorgensen, R. M. Lee, J. S. Lewis, and D. Jarrett. 2013. Detection systems for carbapenemase gene identification should include the SME serine carbapenemase. Intl. J. Antimicrob. Agents 41:1-4.
Yigit, H., A. M. Queenan, G. J. Anderson, A. Domenech-Sanchez, J. W. Biddle, C. D. Steward, S. Alberti, K. Bush and F. C. Tenover. 2001. Characterization of a novel carbapenem hydrolyzing β-lactamase, KPC-1, from a carbapenem-resistant strain of Klebsiella pneumoniae. Antimicrob. Agents Chemother. 45:1151-1161.
Bush, K.,G. A. Jacoby and A. A. Medeiros. 1995. A functional classification scheme for β-lactamases. Antimicrob. Agents Chemother. 39:1211-1233