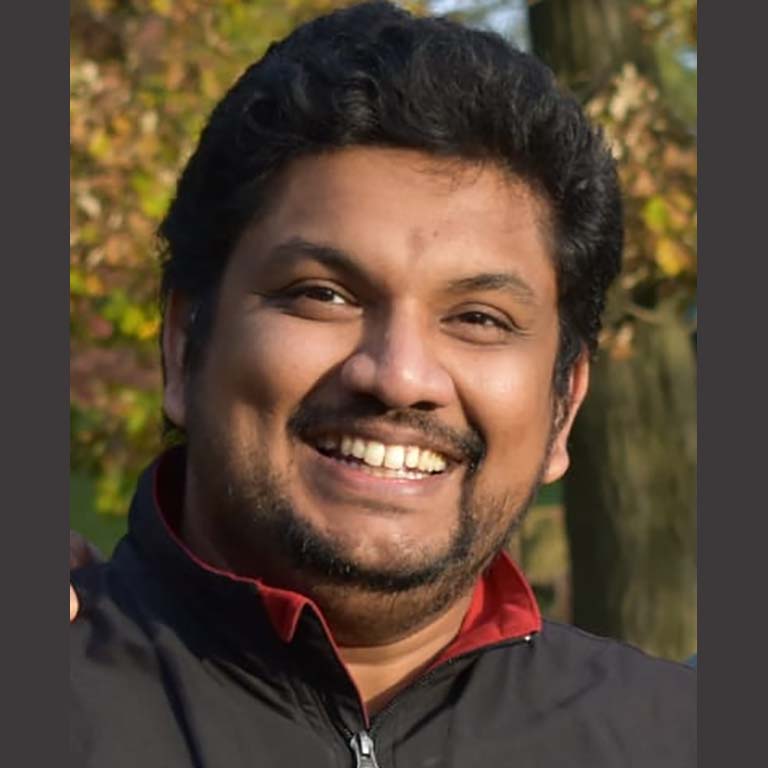 Adarsh Dharan
Assistant Professor, Biology
(he/him/his)
adharan@luc.edu

Simon Hall 200C
Office Hours
Education
Research Assistant Professor, Loyola University Chicago, 2019-2023
Postdoctoral researcher, Loyola University Chicago, 2013-2019
Ph.D., Hannover Medical School Germany, 2009-2013
About Adarsh Dharan
— Adarsh Dharan arrives in January 2024. —
Awards
Andy Kaplan Prize in Retrovirology, Cold Spring Harbor Retrovirology, 2021
Research
Thousands of protein structures called Nuclear Pore Complexes (NPCs) serve as gatekeepers between the cytoplasm and nucleus and control cargo movement between the two. This macromolecular complex, which is composed of approximately 30 different proteins, is embedded into the nuclear envelope and is essential for cell growth, differentiation, and gene regulation. The NPC machinery is manipulated by several viral pathogens to gain entry into the nucleus for gene expression, as with HIV-1, or to relocalize nuclear proteins to the cytoplasm to facilitate viral replication, as with many cytoplasmic replicating RNA viruses. In the context of HIV-1, our finding that HIV-1 utilizes distinct nuclear import pathways in addition to recent data suggesting heterogeneity in the composition and size of NPCs adds up to the complexity of viral nuclear entry. This opens up new avenues for research in the fields of NPC biology and viral nuclear import.
The Dharan lab is dedicated to investigating this pivotal role of NPCs during viral infection. The lab will study two viral pathogens, HIV-1, which requires nuclear access for gene expression, and mouse hepatitis virus (MHV), which completes its viral life cycle in the cytoplasm. Due to viruses' exceptional ability to exploit host cell machinery such as NPCs, the lab is also interested in using viruses as tools to study aspects of NPC biology that would otherwise be difficult or impossible to understand. The lab is currently focused on three main objectives.
Our previous work has shown NPC proteins dynamically relocalize following HIV-1 infection. We seek to understand the mechanism by which NPC proteins are relocalized and the effect of this relocalization on infection (is this a pro-viral or host defense mechanism).
Existence of heterogeneous NPCs and HIV-1 utilizing specific nuclear import pathways for nuclear entry opens up the question as to why certain nuclear import pathways are utilized. Is there a specific nuclear import pathway the virus "prefers", and why? What is the outcome of using a non-favored nuclear entry pathway for HIV-1? From the perspective of a cell, what is the relevance of having multiple nuclear import pathways? The lab is interested in studying these pathogen-related and non-pathogen-related questions and hopes to provide a deeper understanding of HIV-1's nuclear import mechanism and to the biology of NPCs and nuclear import pathways.
Are the functions of NPC and its constituents limited to the nuclear envelope or does it extend beyond this boundary? Using viral systems that complete their life cycle in the cell cytoplasm, we will address this underappreciated question to provide a more in-depth understanding to a direct role of NPC in the cell cytoplasm.
Research areas
Chromatin, Chromosomes, and Genome Integrity
Eukaryotic Cell Biology, Cytoskeleton, and Signaling
Virology
Publications
Dharan, A., Campbell, E.M. (2022). Teaching Old Dogmas New Tricks: Recent Insights into the Nuclear Import of HIV-1. Current Opinions in Virology 2022. PMID 35121335
Dharan, A., Bachmann, N., Talley, S., Zwikelmaier, V., Campbell, E.M. (2020). Nuclear Pore Blockade Reveals that HIV-1 Completes reverse Transcription and Uncoating in the Nucleus. Nature Microbiology. PMID: 32483230
Dharan, A., Campbell, E.M. (2018). Role of Microtubules and Microtubule-Associated Proteins in HIV-1 Infection. Journal of Virology. PMCID: PMC6069196
Dharan, A., Opp, S., Abdel-Rahim, O., Keceli, S.K., Imam, S., Diaz-Griffero, F., Campbell, E.M. (2017). Bicaudal D2 Facilitates the Cytoplasmic Trafficking and Nuclear Import of HIV-1 Genomes During Infection. Proceedings of the National Academy of Sciences. PMCID: PMC5740630
Dharan, A., Talley S., Tripathi, A., Mamede, J., Majetschak, Hope, T.J, Campbell, E.M. (2016). KIF5B and Nup358 Cooperatively Mediate the Nuclear Import of HIV-1 during Infection. PLoS Pathogens. PMCID: PMC4915687